Satelite Dish To Solar Tracker
Conversion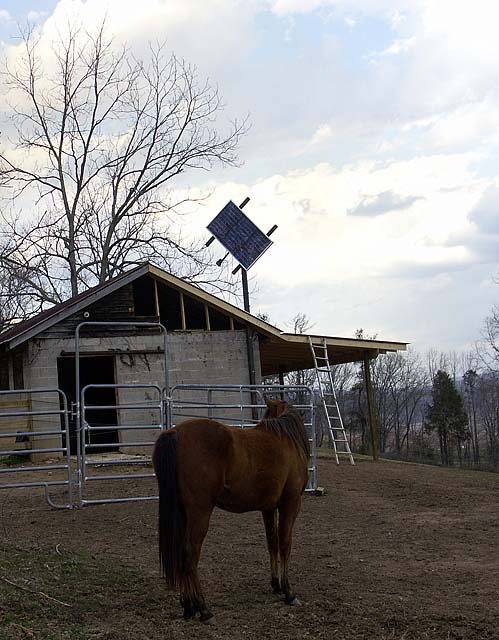 I'm one of those people who like to build moving objects. Something motorized! If you are one of "those" guys, or just want to get some more power out of your panels for cheap, then this is for you. Satelite dishes are one of the easiest things to scrounge. Most people are more than happy to let you take them away, but sometime you have to take the concrete base as well, which really isnt that fun. ;)

Ok, we start with taking the dish out of the ground. Man oh man, what a B*tch! The concrete for this one was about 2' wide and 3' deep. We had to dig around it, and use a jack to help get it out. Even after you get it out you aren't out of hot water, because you have to have some way to transport it. Unfortunantly this one is a 12 footer so we had to partially take it apart to move it, even in a box truck!

Here's what we end up with though:





If you get one of these metal ones that are held together with bolts, it makes it really easy to get rid of. After taking it apart, it all fit in the back of my small pick-up. Also, that ended up being 130~ lbs of aluminum which I took to the "country walmart", or junk yard, and got paid $40 for it.



Ok, back to the important stuff. The mount is badly rusted so a quick sanding/grinding fixed that problem real quick. Since some of the bolts were rusted up as well, we had to use a blow torch to get it all apart. After getting everything sanded down good, I sprayed the entire setup with Rustoleum(sp?) so this wouldnt happen again for some time.



Make sure the accuator works(usually before you dig it out) since this is the heart of the machine. Most acctuators are 12-24 volts DC, but can work on less. They will just go slower.



Since the dish is gone I had to design a new bracket that hooks to the accuator, and holds the panels. This one is made of 3" square steel tubing. Way overboard but I've never worked with metal so I wanted to be safe then.



After I had everything together, it was almost ready to put up. It has a body and a heart, now we just need a brain. The Tracker! This tracker is from Red Rok and is the LED3X Solar Tracker made with LEDs. You hook it up to your battery and acctuator, and point it at the sun. It will follow the sun all day long, and turn back to the morning position after dark. Some have had problems with him but when I I found something wrong he sent me another immediatlly. Was great to work with and I will be ordering more in the future.



Many people use a 555 timer chip or hook it to thier computer instead. Tom W. and Don C. have made relay boards that are controlled through your computer which you can use with the accutator to track the sun. The relay boards are found Here.

Once you hook up your brain/tracker, you are ready to throw on some panels and sit back and watch.






                                           For the metal of the trashed dish=Made $40 @ scrap yard

                                           Metal and welding for panel mount=$140

                                           Tracking device=$35

                                           Wire=$10



                                           Total for tracker=$145